Marquis Racing
THE FASTEST WAY TO RELAX

RYAN TRUEX
Marquis is proud to stand with Ryan Truex in 2021 as he competes full time in the NASCAR® Camping World Truck Series. Throughout the season we will host special giveaways, so make sure you're following us on Facebook, Instagram and Twitter.

THE LUCKY NUMBER 40
According to tradition, the number forty is associated with "the quality of being worthy of respect or honor." Marquis was founded in 1980, so 2020 marked our 40th Anniversary. How fitting that Ryan is driving the #40 Chevrolet for Niece Motorsports! Combined with Ryan's talent and winning spirit, we consider it a sign of good things to come. Go Ryan!
Apparel, Fan Bundles & Die-Cast

BLAST AWAY YOUR ACHES AND PAINS
Aches and pains are a drag. Whether you're pushing 30 or have a few extra 'miles on the odometer,' something somewhere probably hurts. From a stiff neck and tight shoulders, to an aching back and hips, to sore legs and tired feet. When it comes to chronic pain, insomnia, and other health conditions, Marquis high-flow therapy can provide relief.

HIGH-FLOW, NO STING
Owning a Marquis hot tub is like having a world-class pit crew for your whole body. Precise, reliable, and raring to go, every model offers our winning high-flow, low-pressure design to provide deep muscle penetration without skin discomfort. Intuitive controls, ergonomic seating, thoughtful jet placement, pristine water filtration and energy efficiency deliver The Ultimate Hot Tub Experience!™


"Racing is very tough on the body, and there are a lot of sore days. My Vector21 V94L definitely helps my recovery and keeps me feeling fresh." — Ryan Truex
For his aches and pains, Ryan Truex chose the starship-inspired Vector21 V94L, and topped it off with a matching Environments™ hot tub step. Featuring a Commander's Lounge with full-body therapy, seating for seven, two dual-speed pumps, 43 laminar-flow Jetpods and a colossal Whitewater-4™ jet, the V94L is as powerful as it is stylish. Specialized Massage Seats deliver four unique styles of hydromassage. Now the question becomes: "Which hot tub model is right for you?"
HOT TUB FINDER AND DEALER LOCATOR
Use our Hot Tub Finder to narrow your search by hot tub size, shape or series. Then, use our Dealer Locator to find your nearest authorized Marquis Dealer.
2021 Marquis Racing Schedule
Hot Tub Configurations
Racing fans come in all shapes and sizes and have different wants and needs. Your local Marquis Dealer can help you select the right model, options, and accessories to fit your taste and budget.
Quality construction and intuitive design
Rated #1 Brand in Initial Quality by SpaSearch Magazine
Designed and crafted by Americans in rural Oregon, USA
Thoughtful jet placement
Up to 104-degree Fahrenheit (40C) water temperature*
Health benefits of a hot tub
Have questions? Your local hot tub dealer can help you from start to finish — from conducting a site inspection and helping you pick a model, to selecting options and colors and arranging final installation. Start here to set up your personal consultation.
*The maximum recommended therapeutic limit for hot tub hydrotherapy is 104 degrees Fahrenheit (40C).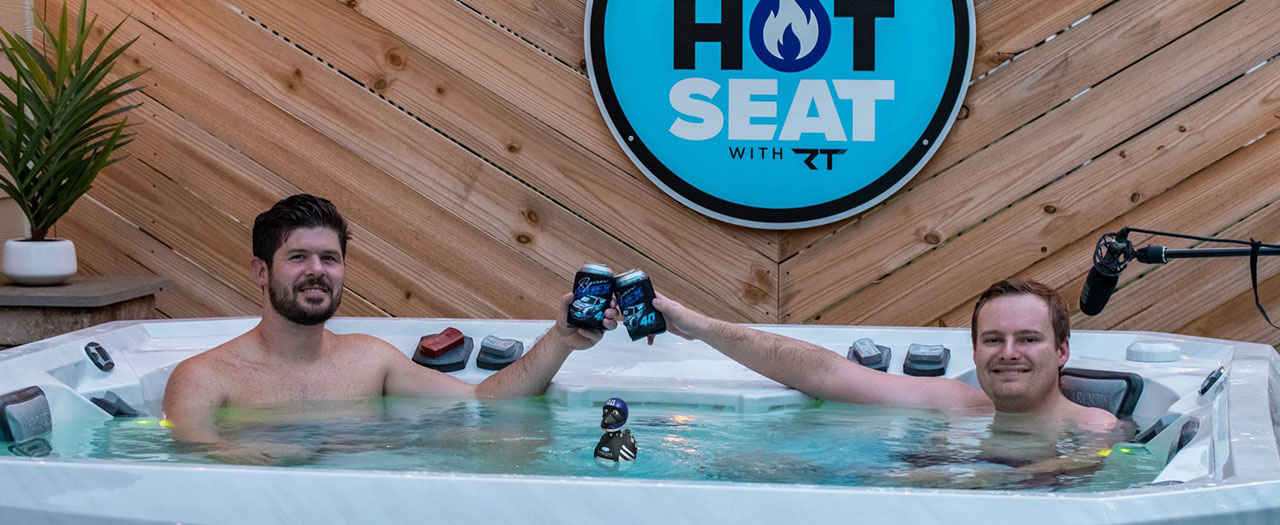 THE HOT SEAT PODCAST - NEW!
Join Ryan Truex as he interviews some of the biggest names from the NASCAR truck, Xfinity and Cup Series. All from the comfort of his very own Marquis Vector21 V94L hot tub. Discover everything you didn't realize you wanted to know and more!
RYAN TRUEX 2019 BLOG SERIES 
Want to learn more about Ryan? Read our new blog series about his racing, physical recovery, and more.