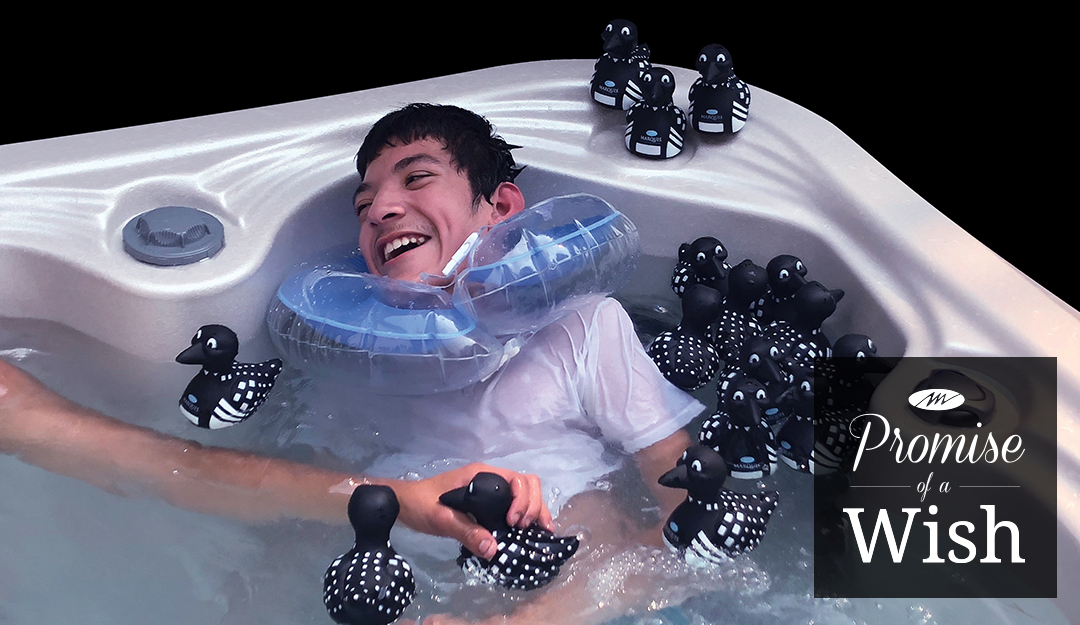 Thank you for helping to grant wishes
Thank you to everyone who participated in our 2019 "Promise of a Wish" Campaign. Marquis® celebrated our 19-year partnership with Make-A-Wish® and over 850 hot tub and swim spa wishes granted. During the month of April, we offered an $850 discount coupon and donated $50 to the local Make-A-Wish chapter for each purchase of The Promise or The Wish hot tubs.
The granting of wishes continues
Even though the promotional period has ended for 2019, you can still support Make-A-Wish as it continues to grant wishes to children with critical health conditions:
All year long, Marquis makes a $25 donation to Make-A-Wish for every model of The Wish hot tub sold.
Marquis and Make-A-Wish team up regularly to help wish kids.
Every hot tub and swim spa sale helps to support this program.
---
FUN FACT: For the past 19 years, Marquis has been the preferred provider for Make-A-Wish hot tub and swim spa wishes. Throughout the year, Marquis and Make-A-Wish team up to help wish kids find relief in the soothing water of a hot tub or swim spa. With the help of our independent dealer network, we are approaching 900 wishes granted to children with critical health conditions across North America.
---
Support World Wish Day®
For children battling a critical illness, a wish is not just a dream. A wish-come-true can be a turning point in their lives. It can give kids the emotional and physical strength to keep going – to fight harder against their illness. Wishes allow children and their families to focus on the possibilities of tomorrow and not on the challenges of today.
Every year during the month of April in honor of World Wish Day®, we join together in celebrating the hundreds of thousands of life-changing wishes that have been granted and the thousands still to come. Let's continue to show the world what wish kids and families already know: Where there's a wish, there's a way.
Learn more at wish.org/worldwishday and follow Make-A-Wish on social media (Facebook, Twitter or Instagram) each #WishWednesday in the month of April for more inspiring stories.