MARQUIS® WINS NATIONAL AWARD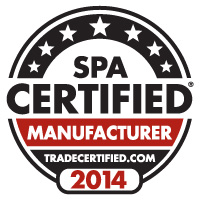 SpaRetailer and PoolPro magazines are pleased to announce that Marquis has received the coveted 2014 Certified™ award— the only independent endorsement for companies in the hot tub and swimming pool industries. Proving their longtime commitment to excellence Marquis has met all the standards of the rigorous certification process.
Completely independent and based solely on merit, companies in the hot tub and swimming pool industries earn the Certified™ status by demonstrating excellence on every level, from employee training to customer satisfaction. To maintain complete impartiality, all results were tabulated through a team of third-party auditors, ensuring that this certification was won fairly and not influenced by advertising dollars.
"This award is unprecedented in our industries," says David Wood, editor-in-chief of SpaRetailer and PoolPro magazines. "Marquis has long been an example to companies in the industry and we are pleased to include them as one of our Certified™manufacturers."
In 2014, Bigfish Publications will recognize Marquis and other select businesses in the hot tub and swimming pool industries that consistently provide a superior buying experience for customers. Vendors can take pride knowing they have hired among the best companies in the industry. These trade companies are evaluated based on audited results related to sales, service, operations and customer satisfaction, as well as random on-site inspections by independent auditors.