Hot Tub Covers
Protect your investment with a DuraCover® from Marquis
A hot tub cover is an important investment for a number of reasons, from keeping your water clean to keeping your energy bills in check. We make sure your Marquis hot tub has an equally impressive cover to complement its gorgeous design. Each cover is fitted to seal well along the acrylic as well as the sides, hugging the hot tub to keep heat inside. This keeps the acrylic protected, water heated and the elements out. Every cover is designed with a taper to help water, snow and other debris run off. A Marquis DuraCover® hot tub cover is the best choice.
An energy efficient hot tub cover
Covering your hot tub with a quality Marquis DuraCover keeps the heat where it belongs, inside. Without a hot tub cover your water's heat will escape. To compensate, the heater comes on to reheat the water increasing your energy consumption. Because of this, Marquis provides the best cover in the market. The DuraCover is insulated with the finest certified two pound density foam. The DuraCover combats evaporation and keeps moisture inside the hot tub. It also features an exclusive linear heat seal to prevent heat from escaping. The fitted hinge seal at the ends complements the linear heat seal, traps the heat inside and keeps the cold out.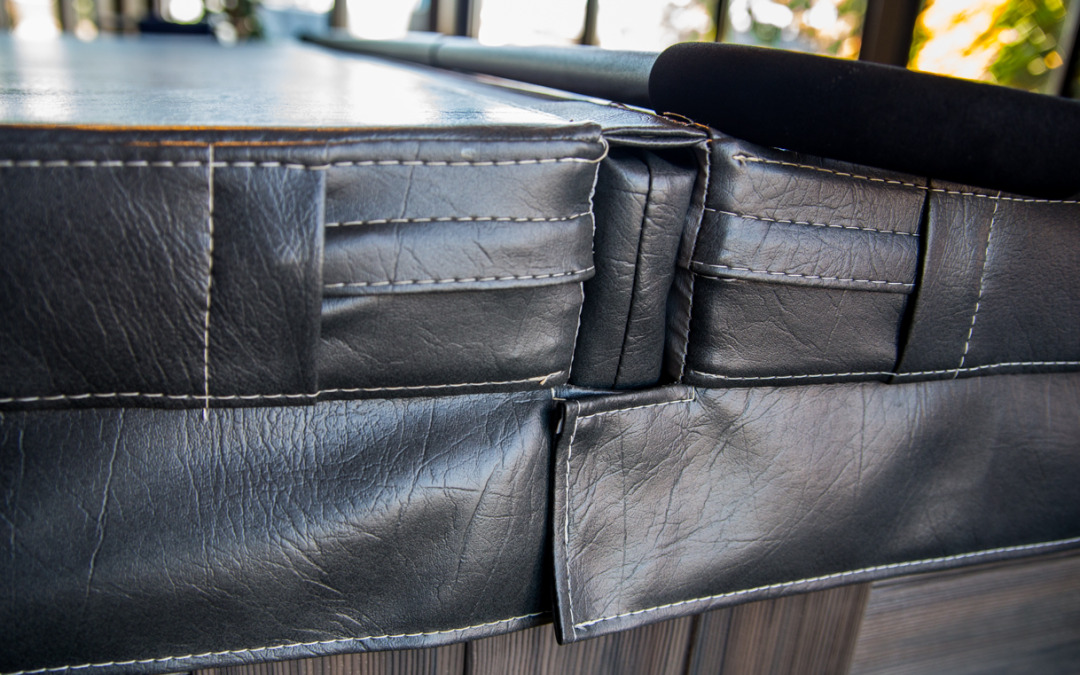 Clean water with a hot tub cover
Another benefit to the DuraCover hot tub cover is clean water. In addition to energy savings, covering your hot tub when not in use keeps debris, bugs, organic material, dirt and the elements out. Our DuraCover's insulated skirt fits snugly below the acrylic line to provide extra protection and help keep nature out.
Hot tub covers + safety
DuraCover is a UL approved safety cover. An unattended spa can be a dangerous place for young children and animals. That's why each DuraCover comes standard with safety locks. Our top quality safety locks keep the top secure, in-place and children and pets out of the water.
Hot tub cover lifespan
A hot tub cover can last from four to five years depending on certain conditions including weather, care, upkeep and environment. Once the cover becomes worn and allows moisture to penetrate the foam, it loses most of its ability to keep the heat and moisture inside the hot tub. Each Marquis DuraCover's foam core is wrapped with a vapor barrier which helps keep the foam from absorbing water. We recommend the following tips to keep your hot tub cover in the best condition possible.
treat with cover cleaner
keep clean of debris
proper water chemical levels
proper water levels
proper handling and removal of the cover
Hot tub cover lifts
Want a little extra added convenience or need an assist? Cover lifts are available that make it easier to lift the cover with the assistance of these devices.