Marquis® is the Official Hydrodynamic Performance Consultants to Carpool De Ville!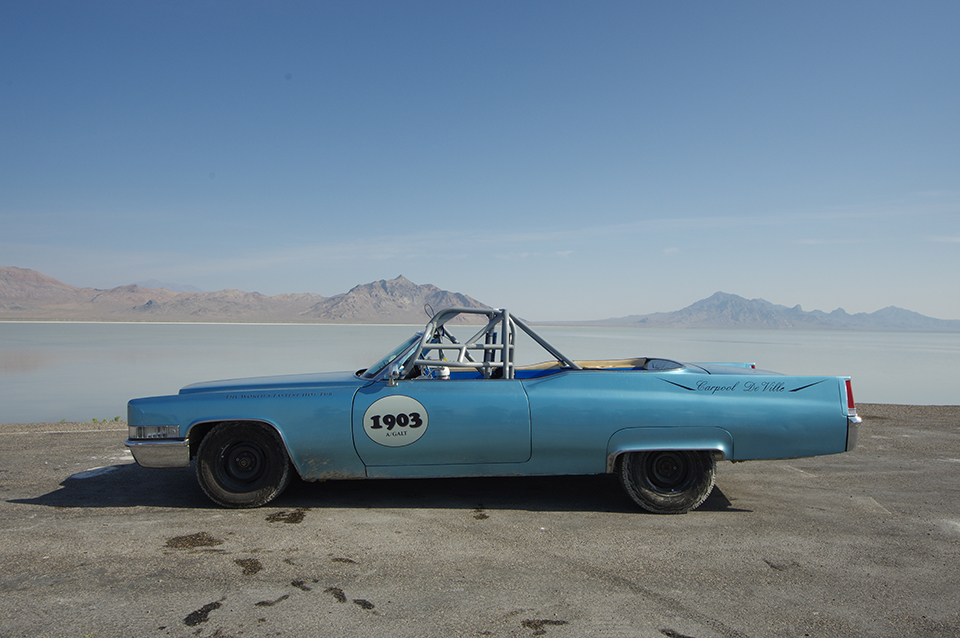 The Carpool De Ville is a 1969 Cadillac De Ville that has been converted to a fully operational hot tub, including a sealed acrylic liner to hold about 600 gallons of hot water. The engine, transmission and brakes are operated by marine throttles and the engine heats the water to 102 degrees! Housed in the trunk is a new Marquis® "Powerplant," driving High Output Therapy through high-flow tubing and out 12 Hydrokinetic (HK™) jets, all channeled by Marquis' 3-2-1 Zone Control™ valves. The hot tub and jets network are controlled by a Marquis® Signature™ topside control panel.
view a slideshow of Carpool DeVille from the IPSP Expo
Duncan Forster and Phil Weicker, two former engineering students, came up with the idea of Carpool De Ville six years ago and have been working towards their goal to race at the Bonneville Salt Flats and set the land speed record for the world's fastest hot tub!
They needed additional support to test if the Carpool De Ville is, in fact, the world's fastest hot tub and reached out to Kickstarter. Thereafter, Marquis® found them and supported their cause.
"At Marquis® we continually look for new ideas in pursuit of The Ultimate Hot Tub Experience™. We were inspired by the Carpool De Ville…believe hot tubs are supposed to be about fun…and wanted to support this very fun quest in the salt flats and beyond," said Jim Johnston, Marquis®' Vice President of Marketing.
Carpool De Ville was poised for the official record run this past August when Mother Nature washed out the entire Speed Week trials. Nevertheless, Carpool De Ville found a dry stretch of Bonneville Salt Flats outside Wendover, Utah and did race and record their run. You can learn more about their world's fastest hot tub by visiting http://www.worldsfastesthottub.com.
Carpool De Ville was on display in the Marquis® booth at the IPSP Expo in Orlando in November. It will also be making another appearance at the upcoming Pool & Spa show in Atlantic City January 27-29, 2015. Be sure and stop by the booth for a photo and a free t-shirt!
About Marquis® Marquis®, an Oregon-based employee-owned company, has been manufacturing premium portable hot tubs for over 30 years. The company distributes its products in the U.S., Canada and Europe via its extensive distributor and dealer network. For more information please call (800) 275-0888 or log onto www.marquisspas.com.