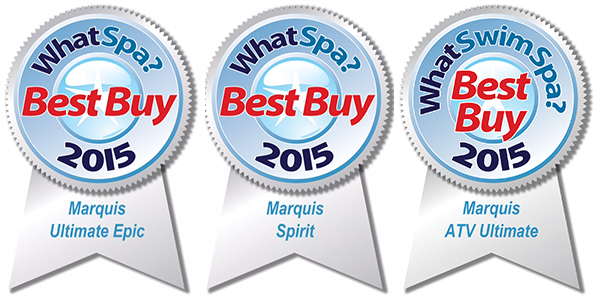 Marquis® is Tops in UK!
Marquis® is
WhatSpa

? and

WhatSwimSpa

?
Best Buy Award Winner for 2015!

Marquis® has won WhatSpa? Best Buy Awards for the Ultimate Epic, Spirit and WhatSwimSpa? Best Buy for the ATV™ Ultimate! These awards acknowledge the Marquis® Epic Ultimate, Spirit and ATV™ Ultimate are the best in the industry based on design, hydrotherapy and value-for-money.

Marquis® has been recognized by the magazine as a best buy award winner since 2008. This is the second consecutive year the Spirit and Ultimate Epic have won. The Best Buy Awards can be found in the spring 2015 issue of WhatSpa? magazine along with features on the Spirit, Ultimate Epic and an advertisement on MicroSilk®.

The ATV™ Ultimate is also a top feature in the spring issue of WhatSwimSpa? magazine. In this issue, you'll also find an article featuring our very own swim spa star, 6 time Ironman Dave Scott. The article covers his collaboration with Marquis® and promotes our soon to be released training videos.