Marquis Grants 900th Hot Tub Wish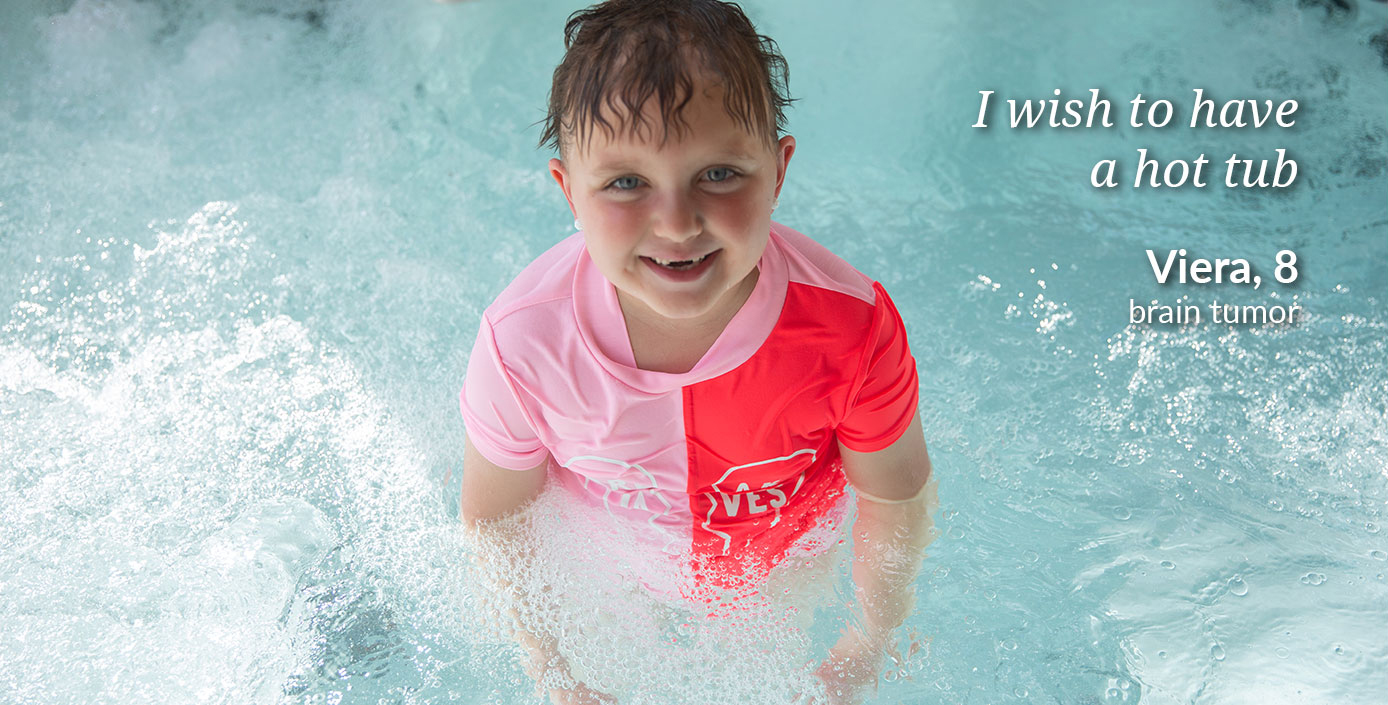 Marquis® and Make-A-Wish® partner to grant 900th wish
Gilbert, Arizona, USA— April 6, 2021—Eight-year-old Viera was diagnosed with a brain tumor in 2019. In search of a comfortable place to relax, Viera wished for a hot tub in 2020. Thanks to Make-A-Wish® Arizona, Marquis® hot tubs, and Arizona Spas & Patio, Viera's wish has been granted.
"Viera is beyond excited her wish to have a hot tub has come true," said Brooke, Viera's mother. "She has been telling everyone about her wish and can't wait to relax with family and friends."
Viera's hot tub marks the 900th wish granted by Marquis and Make-A-Wish since their partnership began in 2000. Since then, more than $6.5 million in donations and discounts have been provided to Make-A-Wish® America, Make-A-Wish® Canada, and Make-A-Wish® United Kingdom.
"Hot tub wishes give children like Viera an at-home oasis where they can relax and spend time with their family," said Mackenzie Scroggins of Make-A-Wish Arizona. "We are excited that we can offer wish kids like Viera some comfort and fun in a safe environment as we continue to grant wishes during the pandemic."
Sam Collins, Marquis Corp. President, wholeheartedly agrees. "With over 20 years of partnership together, Make-A-Wish is deeply woven into our company culture," said Collins. "Alongside our network of Marquis Dealers, helping children like Viera gives us a tremendous sense of pride and purpose. Especially during this extra-challenging time for wish kids and their families."
After manufacturing, Viera's hot tub still required local delivery and installation. Russell Moody, owner of Arizona Spas & Patio in Mesa, donated his company's time and labor to ensure a smooth experience for Viera and her family. "For me, it's all about helping the kids more than anything," said Moody, a longtime veteran of the spa industry. "And I look forward to helping more wish kids in the future."
The partnership between Marquis and Make-A-Wish was inspired by Andrea's wish for a hot tub in 2000. Over 20 years later, Andrea is cancer-free and has a family of her own. She enjoys spending quality time with her husband and daughter in their new Marquis hot tub. Thanks to wish kids like Andrea and Viera, Marquis remains committed to helping children with critical illnesses to enjoy hot tub hydrotherapy and its benefits.
In celebration of the 900th wish, NASCAR driver Ryan Truex will race a special "900 Wishes" paint scheme at Richmond Raceway on April 17th. Truex's Marquis No. 40 Chevrolet will bear the names of all 900 wish kids—from Andrea to Viera—on the truck bed.
"Thank you to Ryan Truex, Niece Motorsports and our long-time national partner Marquis for creating such a beautiful paint scheme that pays tribute to the 900 children with critical illnesses since 2000 who have had life-changing wishes granted thanks to the Marquis sponsorship," said LuAnn Bott, vice president of corporate partnerships and revenue services at Make-A-Wish America. "We hope that the No. 40 truck will inspire fans to learn how they can join Ryan, Niece Motorsports and Marquis in helping make wishes come true."